Grandes Artistas en el festejo de los 90 años de Sondheim – Miralo acá
SOLO X 24 HS ESTARA DISPONIBLE EL CONCIERTO TRANSMITIDO AYER EN VIVO
Meryl Streep, Jake Gyllenhaal y Christine Baranski fueron solo algunas de las estrellas que brindaron por el legendario compositor durante el concierto de beneficio virtual.
Una lista apropiada de estrellas de Broadway y Hollywood se reunieron virtualmente el domingo por la noche para brindar por el 90 cumpleaños de Stephen Sondheim con un concierto benéfico lleno de actuaciones y brindis (literalmente, en un caso) para el icónico compositor.
"Take Me to the World: A Sondheim 90th Birthday Celebration", que se transmitió en vivo a través de Broadway.com y benefició a los artistas que luchan por acabar con la pobreza (ASTEP), comenzó con algunas dificultades técnicas (los espectáculos de Broadway rara vez levantan el telón a las 8 pm en punto) , pero este comenzó tarde y luego se detuvo nuevamente después de que los comentarios de apertura del presentador Raúl Esparza sucedieron sin sonido), pero una vez que las cosas comenzaron a funcionar correctamente, los espectadores disfrutaron de casi dos horas y media de homenajes musicales de los gustos de Meryl Streep, Jake Gyllenhaal, Patti LuPone, Lin-Manuel Miranda, Neil Patrick Harris, Bernadette Peters, Mandy Patinkin, Audra McDonald y muchos más.
Gyllenhaal y Annaleigh Ashford repitieron sus papeles en Park With George para un dúo de pantalla dividida de "Move On", mientras que Patinkin, que protagonizó la producción original de Broadway de 1984, hizo la "Lección # 8" del musical mientras estaba parado en un campo, un ex George cantando en un parque vacío, sí, un domingo.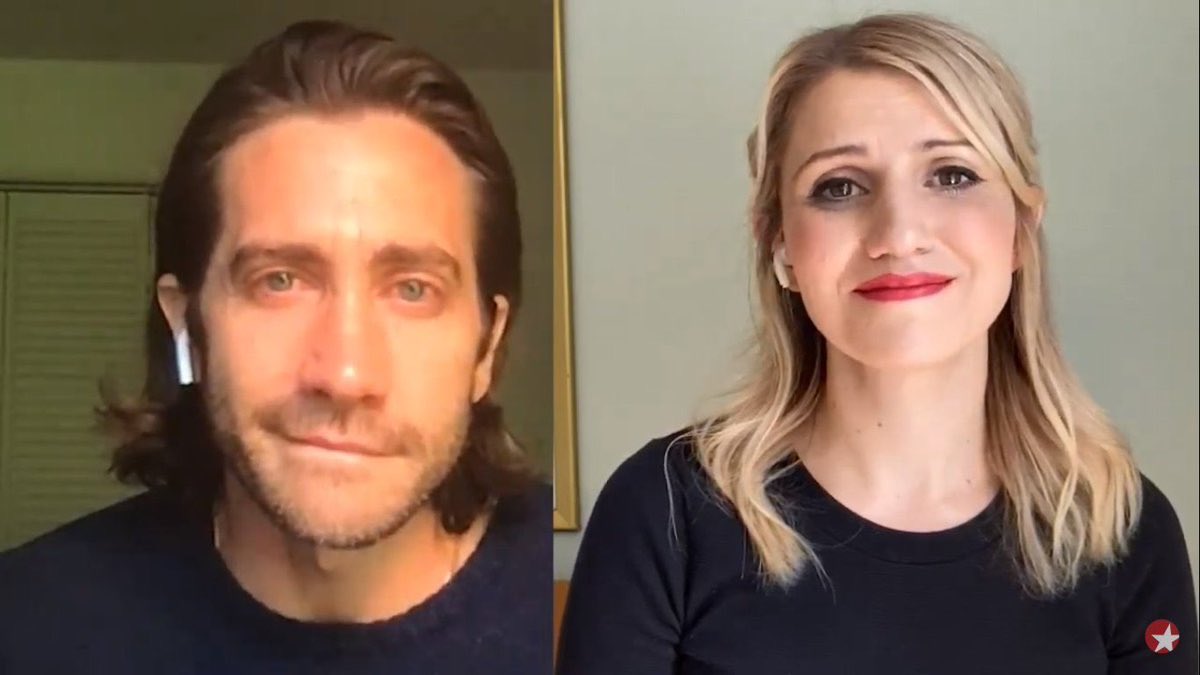 Otros aspectos destacados de la noche incluyeron a los amigos Beanie Feldstein y Ben Platt cantando "It Takes Two" de Into the Woods , una opción popular entre los artistas durante el espectáculo del domingo. Josh Groban, aparentemente incapaz de elegir una sola canción para cantar, mezcló "Children Will Listen" de Woods con "Not While I'm Around " de Sweeney Todd , mientras Miranda cantaba "Giants in the Sky" y Harris reclutó a sus hijos para ayuda con la parte del número de apertura conocido como "The Witch's Rap". Al final del espectáculo, antes de los créditos finales, Peters cantó una versión a cappella de "No One Is Alone" en su comedor.
Hubo interludios de Victor Garber, Nathan Lane y Steven Spielberg (director del próximo remake de West Side Story que, si la pandemia no presiona la fecha de lanzamiento, llegará este diciembre), y otras canciones de Donna Murphy, LuPone, Laura Benanti, Brian Stokes Mitchell, Katrina Lenk y Michael Cerveris. Pero el momento más importante de la noche, lo tuvieron Christine Baranski, Streep y McDonald uniéndose para "The Ladies Who Lunch" de la Compañía , vestidos con batas blancas y mezclando bebidas mientras cantaban: serio, teatral , y pasar el mejor momento, canalizando la energía de lo especial en su conjunto y el estado de ánimo colectivo de todos los que miran desde casa. Brindemos por ellos, de hecho.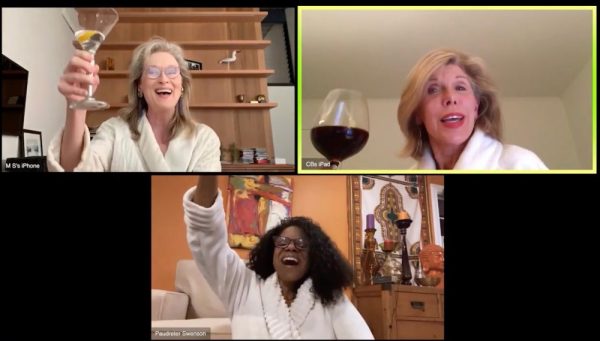 A partir del lunes por la mañana, el programa todavía está disponible en línea, por lo que puede verlo (o volver a visitar sus momentos favoritos) arriba.
​Stephen Schwartz – "Prologue" (Follies)
Broadway Musicians – "Overture"
Sutton Foster with Emily Griffin – " There Won't Be Trumpets" (Anyone Can Whistle)
Neil Patrick Harris with Gideon Burtka-Harris and Harper Burtka-Harris – "The Witch's Rap" (Into The Woods)
Kelli O'Hara – "What More Do I Need" (Saturday Night)
Judy Kuhn – "What Can You Lose" (Dick Tracy)
Victor Garber – Tribute to Sondheim
Katrina Lenk – "Johanna" (Sweeney Todd)
Aaron Tveit – "Marry Me A Little" (
Iain Armitage – Plea to donate to ASTEP
Beanie Feldstein & Ben Platt – "It Takes Two" (Into The Woods
Brandon Uranowitz – "With So Little to Be Sure Of" (Anyone Can Whistle
Mary-Mitchell Campbell & Priyanka Patil – Plea to donate to ASTEP
Melissa Errico – "Children and Art" (Sunday in the Park with George)
Randy Rainbow – "By The Sea" (Sweeney Todd
Elizabeth Stanley – "The Miller's Son" (A Little Night Music
Mandy Patinkin – "Lesson #8" (Sunday in the Park with George)
Steven Spielberg – Tribute to Sondheim
Maria Friedman – "Broadway Baby" (
Lin-Manuel Miranda – "Giants in the Sky" (Into The Woods
Lonny Price – Tribute to Sondheim
Lea Salonga – "Loving You" (Passion)
Laura Benanti – "I Remember" (Evening Primrose
Raúl Esparza – Plea to donate to ASTEP
Chip Zien – "No More" (Into The Woods
Joanna Gleason – Tribute to Sondheim
Josh Groban – "Children Will Listen" (Into the Woods) / "Not While I'm Around" (Sweeney Todd
John Weidman – Tribute to Sondheim
Brian Stokes Mitchell – "The Flag Song" (Assassins
Michael Cerveris – "Finishing The Hat" (Sunday in the Park with George)
Jason Alexander – Tribute to Sondheim
Linda Lavin – "The Boy From…" (The Mad Show)
Elizabeth Stanley – Plea to donate to ASTEP
Alexander Gemignani – "Buddy's Blues" (Follies)
Ann Harada, Austin Ku, Kelvin Moon Loh, and Thom Sesma – "Someone in a Tree" (Pacific Overtures)
Nathan Lane – Tribute to Sondheim
Lin-Manuel Miranda – Plea to donate to ASTEP
Raúl Esparza – "Take Me To The World" (Evening Primrose)
Donna Murphy – "Send in the Clowns" (A Little Night Music)
Christine Baranski, Audra McDonald, & Meryl Streep – "The Ladies Who Lunch" (Company)
Annaleigh Ashford & Jake Gyllenhaal – "Move On" (Sunday in the Park with George
Patti LuPone – "Anyone Can Whistle" (Anyone Can Whistl
Bernadette Peters – "No One is Alone" (Into The Woods
Members of the Broadway Community – "I'm Still Here" (Follies)